I've been asked to deliver numerous workshops in the past year focused on helping leaders who are seeking to understand the younger generation, so they can lead and work with them more effectively.
Many of the leaders I've been coaching have voiced their struggles with Millennials. It is my perspective that many of us from the older generations are influenced by biases and beliefs resulting from the experiences we had being led and working alongside our peers and older generations.
The reality is that the younger generations are increasing their footprint in our workforce; projections state that the older generations will make up a much smaller percentage of labour within the next 5 years (fig. 1). It's evident that we, as leaders in our organizations, are responsible for creating engaging workplace environments in order for them to thrive.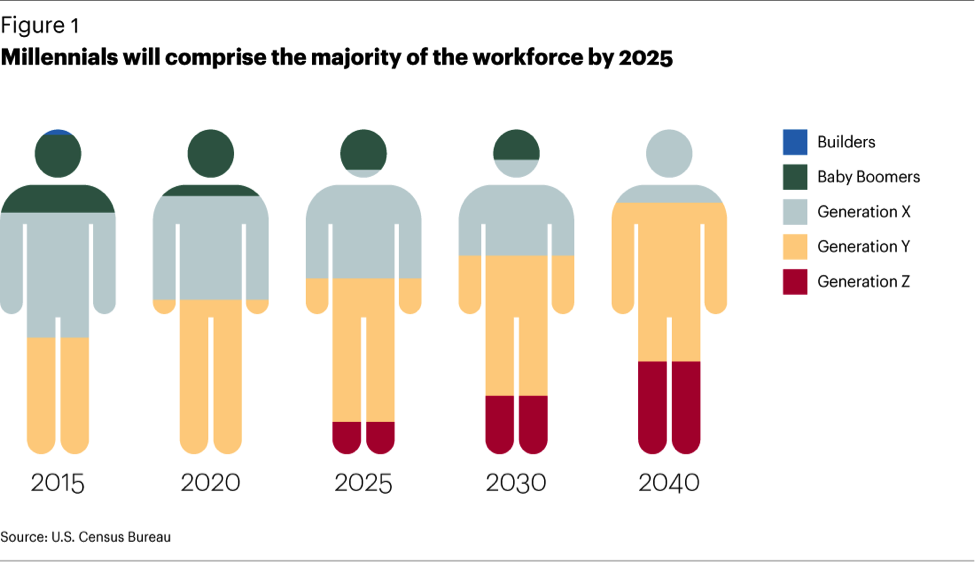 Locate yourself:
A few facts that may help locate yourself generationally:
| | | |
| --- | --- | --- |
| Boomers | Born between 1946 and 1964 | Currently make up 29% of the workforce |
| Gen X'rs | Born between 1965 and 1981 | Currently make up 34% of the workforce |
| Millennials (also called Gen Ys): | Born between 1982 and 2000 | Currently make up 35% of the workforce |
| Gen Z's | Born between 2000 and present | Not yet in workforce |
The Influences We Grew Up With:
Generations are a society-wide peer group born over a 20ish-year period, sharing common qualities and societal influences. The influences we grew up in shape us; they shape our value system, our work style, our motivations, and our relationship to/perspective on work. While Boomers have generally worked in the same job for 15-30 years, they developed loyalty, and in some cases, workaholic behaviours. This is because they received a commitment from their employer; the assumed contract stated that "if you work hard, you'll stay here, and you'll move up the ladder".
The US Department of Labor estimates that today's learner (i.e., 18-22 years old), will have 10-14 jobs by age 38. This means that our younger workers bring different perspectives to the workplace, and what we may perceive as 'commitment'. The "employment contract" is different now from what it was for Boomers or Gen X'ers when they entered the labour force. In fact, 46% of Millennials claim that they plan to start their own business within five years.
(Kaufman Foundation via CNN Money 2012)
Progressive HR professionals and leaders are already recognizing their need to pay attention to their recruitment & retention strategies and to re-think their approach. I advise my clients that retaining an employee for more than two years – that's a success.
This means our relationship to investing in our employees, to mentoring and developing, has to shift. The commitment to their development must remain the same, but we must recognize that tenure won't ever be what it was historically. People who've built loyalty and had a positive workplace experience may choose to come back after they've left to do other jobs/careers.
What Millennials Want – Recruit & Retain
Rajeev Behera, chief executive of real-time performance management platform Reflektive states:
"Stereotypes of each generation aside, ultimately employees want the same thing — to be engaged at work and to have a good manager who acts as a coach and helps them achieve their specific career goals."
All our generations will benefit from a healthy, purposeful, and engaged workforce. The difference, in my opinion, is that Millennials won't tolerate what previous generations have. Why? Because their relationship to their employers is vastly different than the ones formed decades ago between Boomers and Gen X employees.
Millennials are seeking:
Millennials consider the best leaders to have a sense of purpose and authenticity. -Deloitte Consulting
84% of Millennials vote trustworthiness of their leader as most important – they pay attention to their leaders' behaviours; if misaligned with their values – they'll leave.
They want to know that their contributions matter.
They want to be recognized in ways that are personalized to them (not the broad brushstroke).
They care about the company's values and ability to do good in the world.
60% stated that they chose their employer in part because of a sense of organizational purpose.
They seek leaders who are humble and connect with their staff; who try to understand what their employees' worlds are like and adapt their leadership to them.
They perceive their leaders not just as 'boss', but want them to be a confidante, friend, advisor and mentor.
Millennials will leave if:
There is minimal opportunity for wage growth.
There's a lack of opportunity to advance/learn (46% left due to lack of career growth).
There's little focus on team (and it's not considered a priority by their leader).
They have a leader who does not allow for flexibility.
They're Next – What about Gen-Z's?
The Gen Zs are the next generation of workers we want to learn about and understand; we need to prepare to integrate them into our workplaces and lead them effectively – they are coming soon!
A few considerations about this generation:
They make up 24.3% of the US Population; more than Millennials and previous generations.
They are known to be entrepreneurial and great multi-taskers.
They've been called 4D thinkers – minds are streaming in all directions and very aware of their surroundings.
They embrace cultural diversity more than any previous generation. They are known to be pragmatic, cautious, realistic.
They've been identified as both challengers and influencers.
This generation has given me hope for our future – with their focus on social responsibility, transparency, diversity, quality standards, not withstanding their technological intuition- the possibilities that this generation will bring to our workplaces are innumerable.
All we need to do, in order to understand what disruption and contributions may be coming to our workplaces, is observe how the Parkland Students (of the Florida school shooter massacre) synthesized a movement of passionate, youth-led national protesting in a mere five weeks.
I believe this generation will bring a skillset of action, transparency, and engagement that will provide pivotal shifts in our workplaces – and one that will encourage greater authenticity and alignment of values and purpose at work.
I am personally excited to experience how the demand for the type of work that I do and how my focus will change in the coming decade as Millennials and Gen Zs will be the dominant force in our workplaces.
Strategies & Tips to lead the future generations
Here are some strategies to consider as you look to recruit and retain our future generations:
Individualize your leadership and adapt to Millennials by recognizing their motivators, their desire for collaboration and learning, and adept use of technology.
49% of Millennials are intimidated by financial matters; provide coaching and knowledge so that they can be equipped to handle personal financial matters.
Involve your employees in decision-making.
Challenge them.
Allow adequate room for growth.
Make sure they feel unique; individualize and personalize your communications and efforts with them.
Make information about your company's culture, history, and mission easily accessible to your millennial workers (think: website).
Reinforce the importance of a coaching and feedback culture.
Listen to their desires, needs and values.
Links:
Today Show: Dispelling Myths about Millennials
http://www.today.com/video/al-roker-visits-the-company-that-dispels-millennial-misconceptions-about-work-961113155547
Parkland Student Protest: https://www.cnn.com/2018/03/26/us/march-for-our-lives/index.html
Move over, Millennials, Here comes Generation Z: https://www.nytimes.com/2015/09/20/fashion/move-over-Millennials-here-comes-generation-z.html
Did you Know Video – 2018 – Facts about our younger generation – information and learning:
https://www.youtube.com/watch?v=u06BXgWbGvA