I keep thinking that if this COVID-19 situation were happening a decade ago, I would be in complete survival mode mentality – fear-stricken and what I call 'driver' personality (i.e. doing behaviours and a busy mind).
As seen in the figure below – Maslow's Hierarchy of Needs – I would have been right at the bottom!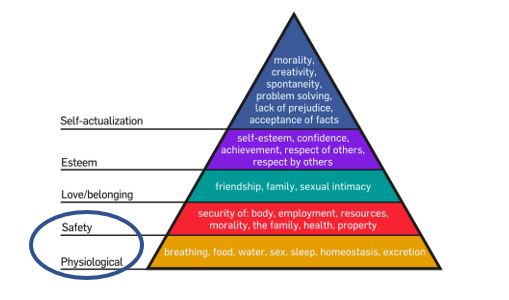 What's shifted for me?
Since 2002 I have encountered some significant changes that turned my life upside down:
Losing my job in 2002 after working a decade with an organization where I built their west coast division from scratch
Leaving my marriage and a business partnership in 2004, with 2 kids under 5 years old.
Buying a home in 2009 and being hit by the economic recession leading to my revenues cut in half
Due to circumstances in 2012, having to be 100% responsible for my children's care and financial needs
In 2014, parting ways with my largest client after a 10-year ongoing contract.
In each of these circumstances, I had no idea what the future would hold. With some, I had no 'say' or choice about the changes, and with others, I chose the change despite not knowing what the future would be.
I teach workshops to assist individuals on how to navigate change – particularly bringing attention to what happens to us emotionally and psychologically when change occurs.
When I refer to change, I mean a significant disruption to established expectations.
In other words, when I lost my job in 2002 and recently returned from my second maternity leave, my established expectation was to continue working for the company I helped grow.
When I left my marriage and business partnership – while these were my choices – this was still a disruption to what I had envisioned for my future (i.e. a family unit of four, both of us co-parenting and contributing to our household and building a business with my new partners).
While navigating these changes, I experienced a visceral feeling of fear and panic. My deepest fear with the last two changes was that my kids and I would end up on the streets.
How did I move through the fear?
What helped me was to face my fear – imagining being in such a destitute place with nowhere to live.
As I shone the light on that dark fear, I came to realize that there was no way my friends or family would let me end up on the streets.
Once I was able to 'face my fear', its power over my thoughts lessened. It became less of a possible reality and only then was I able to begin generating possibilities for my future and to even think creatively.
This is not to say that the aforementioned changes were easy for me to experience.
Each one was filled with significant loss and with each of these changes – every single one – I had some amazing gains. For example, I shifted my career focus once I lost my job – and likely would have never entered the field of organization and leadership development – a field that I love.
Brain Science in Change
David Rock, Director of the Neuroleadership Institute, has researched how our brains function and the impact that this has on our behaviours when we perceive a threat. Our brains cannot distinguish between what is a 'real' threat versus a 'perceived' threat. To our brain they are one and the same.
When we are faced with:
Our identity and status being challenged
Unknowns and unpredictable futures now in front of us
Having little, if any, control or choice in the change (or our future)
Increased stress
Feelings of being excluded
This can trigger fear due to the change being perceived as a threat.
Above the Line Thinking
When confronted by a significant change, many of us go to a place of victim, procrastination, negative thoughts and even blaming others. The following is an illustration to demonstrate how we can be above or below the line.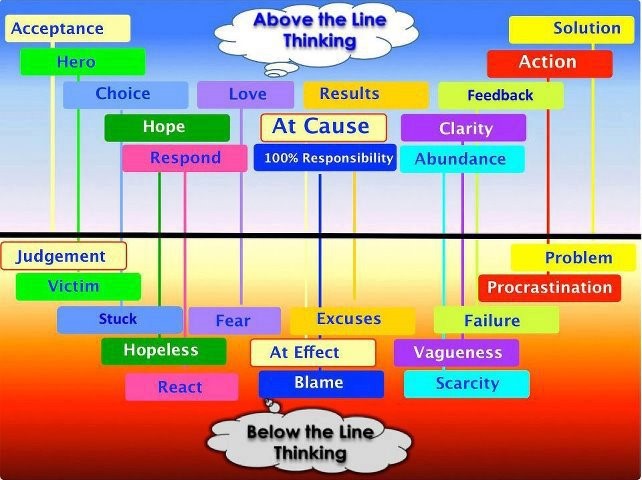 When our future and certainty is perceived as threatened, when we think we have no control and are helpless in a situation, it is common to fall below the line. It takes a conscious, mindful practice to pull ourselves up above the line.
Below is a video that explains this is more detail. It is an excellent summary of why our brains take us below the line and how we can choose to be above the line:
https://conscious.is/video/locating-yourself-a-key-to-conscious-leadership
Strategies to support yourself through significant change
The following are several tools, models and tips that have helped me navigate change.
Identify what is changing and what is not
Often, we can fall victim to catastrophizing a change (i.e., when I thought I'd end up living on the streets) and our thoughts lean towards the change itself rather than focusing on what's staying the same.
Determine what you can control, influence and what you cannot
When confronted with significant change, our thoughts will often take us to the outer sphere (what we have no control over). When we are focused on the outer realm, we are usually focusing on things we cannot control or influence. The less we can influence/control, the more powerless and helpless we feel. Language used in that realm is often one of complaint, victim, blame.
A key strategy to support yourself in times of change is to:

Catch yourself and your thoughts- are these thoughts something you can control or influence?
Coach yourself to focus on what you can truly directly influence and control, and
Act on what you are able to influence and control, even if it is as simple as your attitude.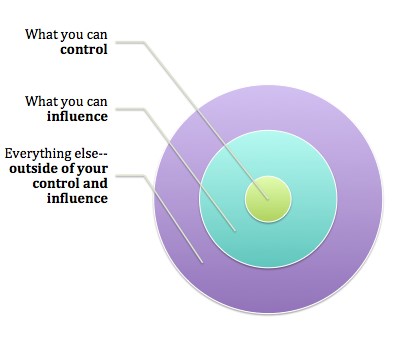 Identify and grieve your losses
A key stage of the emotional process we go through in change is dealing with loss (and grief). It is critical to identify your losses and compensate for them.
A tool you can use to guide you based on William Bridges' work on the psychological process we go through in change is to:
identify what you are losing
identify what you may be gaining from the change, and
determine what you may need to grieve those losses.
When I lost my job in 2004, I lost my status, my level of influence, key relationships with those I'd worked with and even some clients, my routines and structures I'd depended on and the future I'd envisioned for myself.
These losses were highly significant for me and it was important that I allowed myself to go through the emotional cycle of change no matter how painful it was: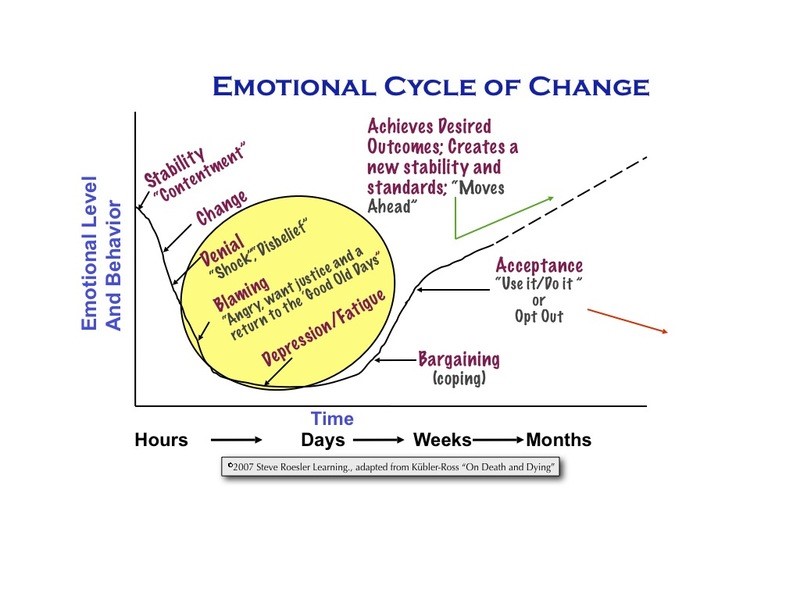 There are times when the gains we realize from a change are only apparent to us in hindsight – as it was for me many years later upon reflecting on the career shift I made resulting from my job loss. At the time, the experience was very difficult, but the lessons I gleaned later by reflecting on the gains provided me with wisdom and an inner sense of resilience when change happens.
Face your fear
Take some time to imagine your worst-case scenario resulting from this change. What is your deepest, darkest fear? As you reflect upon this, determine how likely it is this worst-case scenario will happen. Consider what you can do, that is within your own influence and control, to mitigate this becoming a reality. Remember that we are hard-wired to perceive threat.
Focus on what fills your thimble
This was one of the best pieces of advice provided to me by a fellow coach during a time of adversity and change. I was feeling overwhelmed and unable to pull myself up to viewing possibility. This coach suggested that at the end of each day I reflect upon what filled my thimble. This became a gift for me – filling a tiny thimble is much easier to consider than a whole bucket. It brought my attention to gratitude and appreciation – sometimes of the smallest things.
As I've been navigating through the Covid crisis, with little sense of what the future holds for the next 12-18 months, this has been a significant support to me by observing and appreciating what I call the silver linings in challenging times.
Be compassionate with yourself
As I mentioned earlier, my default behaviour in the past was driver personality and to be in action – driven by fear. Allow yourself to feel…even if these are the not so 'pretty' feelings such as sadness, anger, fear. The expression 'resistance is futile' is appropriate here – we can't resist feeling our feelings – and my experience is that resistance just creates further resistance – so create a safe place for yourself to be in these feelings and tap into your support system as you go through these emotions.
We are living in uncertain and unpredictable times. This change we are collectively facing would challenge even those most skilled in navigating change. Take time to leverage the strategies listed above. Be compassionate with yourself when you are having a hard day and reach out to those around you who can support you. Embrace the 'not knowing' and make a list of what you believe you have the ability to influence. Choose consciously to be above the line so that you can tap into your innovative, creative and playful side.
Complimentary Coaching Session
Please feel free to reach out to me if you are would like some support navigating your stage of loss and the unknown.
I am happy to provide a complimentary coaching session by Zoom. Reach out to me at erica@tpsconsultingltd.com to set up a time.
Bibliography:
Bridges, William, Managing Transitions: Making the Most of Change, 2009
R.E. Quinn, Deep Change, Discovering the Leader Within, 1996
David Rock, Handbook of NeuroLeadership, 2013