Recently I came across an article about Liminal Leadership – defined as unsettled moments in change, and the between of the changed and unchanged or familiar and unfamiliar.
With terms emerging such as 'Disruption' (i.e., industry takeovers such as Uber with the taxi industry and Amazon with Whole Foods), 'VUCA' (Volatility, Uncertainty, Complexity and Ambiguity) and 'Emergence,' many who lead and live through this unease can be left feeling unsettled straddling the world of the known & unknown. The call to leaders is to develop our adaptive mindset and lead differently:
"With today's fast-paced change leaders now need to lead people through the liminal space and time and face challenges in readying employees to adapt to the new transitions"
~ Shaw-Van Buskirk L, Lim DH, Jeong SH, Liminal Leadership Leading Between and Betwixt
Adaptive Leadership
Adaptive leadership requires an expansive set of skills, challenging us to lead without having all (or many) of the answers. We must try to make sense of the unknown by drawing on multiple data sources beyond those we may typically rely on and challenging our mental maps so we can create new maps to draw upon for better decision-making.
The key skills we need to lead and work in this changing landscape include:
Adaptability: Flexible enough to adapt when new information or changes present themselves
Emotional intelligence: Identify one's own and others' emotions and use this emotional information to guide thinking
Systems thinking: See the bigger picture and seek the connections and dependencies; ability to assess both cause & effect
Sensemaking: Structure the unknown and make better sense of what is occurring so that one can act on it
Communication: Taking what can often be disparate parts of a system and confusing, sometimes chaotic elements and translating these to others in a way that makes sense; invites diverse perspectives and allows for generative thinking to occur
Presence & Mindfulness: Strength in grounding oneself in a VUCA world allows for people to be able to slow things down so that they may view the complexity more easily
Decision-making: We make decisions all the time but this is about incorporating diverse and sometimes diametrically opposed elements to make a better informed decision
Expanding Leadership – Navigating adaptive challenges:
Leaders today are faced with:
1) Technical Challenges (i.e., what we define as clear problems with a clear solution)
And
2) Adaptive Challenges whereby a problem is unclear and the solution unknown with unpredictable outcomes.
Distinguishing Technical Challenges from Adaptive Challenges (excerpted from Bushe & Nagaishi, 2018:
 

Technical Challenges

 

       Adaptive Challenges

Easy to operationally define

 

Difficult to agree on what the 'problem' is

Often can be solved by authority or experts

Multiple stakeholders have to be involved to solve it

Requires change in just one or a few places

Requires change in numerous places; usually across the organization

Solutions can be implemented often quickly by changing rules or processes

Adaptation requires experimentation and new discoveries as well as wrong turns and dead ends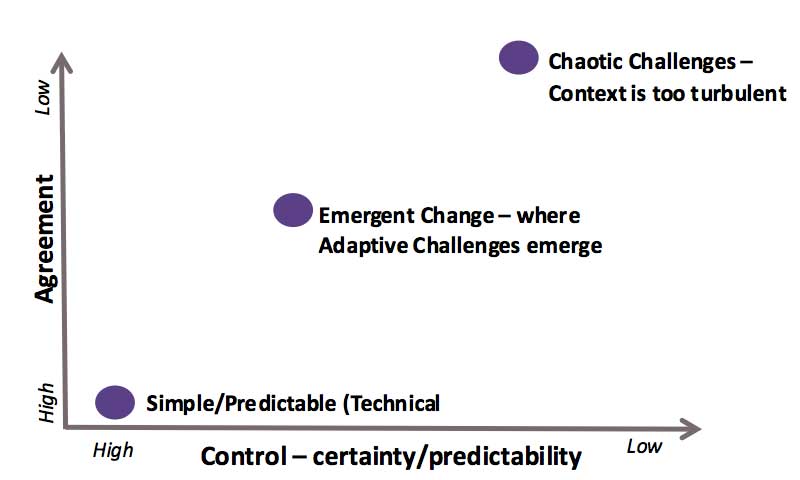 The following visual illustrates technical versus adaptive challenges within the landscape of change – from the predicable to VUCA change:
Technical problems can be solved reliably with practices that are typically easy to replicate – like following a recipe. These problems are easier to control and given that they can be solved by one or a few people, the level of agreement is high.
As we move toward the emergent space where adaptive challenges exist, there is unpredictability, lower levels of both control and agreement and, while conflict may exist due to divergent stakeholder input, it is also where innovation occurs – trial and error helps to fine tune and determine better solutions.
The Chaotic Challenges are ones that are too difficult to work with as there is little if any control and little if any agreement – the goal in this case is to find ways to draw closer to the emergent space – even if strategically fabricated, as a means of gaining higher level of control and agreement and ultimately being able to leverage the skills of adaptive leadership described above.
Dealing with adaptive challenges can be daunting for leaders as they stretch beyond their traditional approaches to solve them. Leaders need courage to navigate in this liminality – they do not fully know what's occurring in the changing dynamical context of their organization. The leader must rely on multiple stakeholders, diverse and sometimes divergent viewpoints, to increase learning and expand everyone's thinking and ultimately lead to better decision-making.
"… identifying the issue or problem that needs to be addressed and framing it in a way that will motivate …. stakeholders who are 'part of the problem' to engage in coming up with new ideas…to stimulate many self-initiated, fail safe innovations and see what works….as opposed to top down…it's a top-down-bottom-up learn as you go strategy"
                  (Bushe GR & Marshak RJ)
Tips to lead ourselves and our teams through adaptive challenges:
The skills we relied on in the past – to be the expert and make the 'right' decision for our teams and drive the change (as the authority) – won't serve us when faced with adaptive challenges. Therefore, we need to access different parts of our leadership to address these challenges – these include bringing the following to our leadership toolkit:
Unlearning:
Having observed my clients adapting to this uncertainty, the one thing they need to do is to 'unlearn' what they have learned. What has worked for them in the past to achieve success (i.e. relying on their knowledge and expertise) is no longer a successful tactic. The key is letting go of fixed paradigms and belief systems and allow for new, sometimes polarity thinking to emerge which will fuel different ways of thinking (and seeing) so that a clearer view can emerge.
Facilitator/Guide:
Shifting from being the conductor of the orchestra and leading the team; the leadership skills are more collaborative – like playing jazz, in which the leader acts more as a stimulus, inviting participation and encouraging generativity to occur from any source, regardless of their formal position.
Appreciation vs Criticism:
In order to foster different ways of thinking and/as well as expansive thinking (and learning), when a leader brings a more appreciative approach rather than critical, this will encourage generativity and allow innovative ideas to emerge. It will also encourage bad ideas which will need to be vetted – but with the intent being on building capacity of learning and growth of the group (rather than from the top).
Challenger (of existing mindset):
Modelling the challenging of the status quo will send a message to the team and the organization to challenge existing processes, approaches, thinking, etc. A key part of applying a challenger approach is to ensure it is inquisitive rather than critical.
Using a curious and questioning approach – like coaching – will increase others' abilities to think critically, consider varying options and build individual and team capacity versus dependence solely on the leader for answers. The shared learning will increase collective intelligence and more than likely lead to better outcomes.
Bibliography:
Ancona, Deborah, Sensemaking: Framing and Acting in the Unknown, The Handbook for Teaching Leadership – Chapter 1
Bushe GR, Marshak RJ, The dialog mindset: Leading emergent change in a complex world. Org Devt J 2016; 34(1): 37 – 65. Bushe & Nagaishi, 2018; op.cit
Eoyong, Glenda http://wiki.hsdinstitute.org/ (Human Systems Dynamics Wiki site)
Shaw-Van Buskirk L, Lim DH, Jeong SH, Liminal Leadership Leading Between and Betwixt, Emerald Group Publishing, January 2019
Wheatley, Margaret, Who do you Choose to Be: An Invitation to the Nobility of Leadership