Growing up as a farm kid in Alberta, Canada, Steve Roth learned early-on the value of hard work, commitment, and follow through.
Earning a degree in Business and Physical Education from the University of Alberta, Steve pursued a career in coaching basketball. By the time he was 32 years old, he was the youngest Head Coach for the University of Saskatchewan's men's basketball team. While coaching, he earned his MBA from the U of S.
Steve revealed that it was through his journey of coaching where he learned some valuable lessons about leadership that have influenced him in the business world.
Steve's leadership approach as a young coach was more about getting his team to be in action by fuelling them with fear; call it forceful leadership. He believed that his team would perform better this way. Given management theories that were being espoused back then, it's not that surprising this would have influenced Steve's approach. What I appreciate about Steve as he recounts this period of his life, is that he was willing to stop, reflect and fine tune his leadership to one that would build higher performing teams and at the same time, prop people up in a sustainable way.
The lessons he learned came to him mostly after he left coaching. As he states, it was after he got fired that "I could see the forest through the trees" and, realize that his approach to get high performance wasn't working.
"It took me ten years to figure this out. It was only after I left coaching and the firestorm had subsided, that I realized my leadership approach didn't work."
New Leadership Principles
Although Steve has no desire to go back to being a basketball coach, he says he would do it only so that the players could see how much he's changed as a leader, shifting his practice to consistent principles of:
collaboration,
engagement; and
having fun no matter what you do.
Transition to the Business World
As Steve moved into the business world (banking, CFO and then a consultant with a Performance Improvement & Leadership company and currently working as VP Seaspan Ferries), Steve attributed the very same principles he'd discovered post-coaching to business.
Steve's view of leadership and the team members he leads is likened to legs of a stool: "It's okay if you don't know everything. The caveat though is you need to have people work with you who can fill in the gaps – and these are the other legs of your stool." In other words, they help create the functionality and balance that generates success.
One of the things Steve has done as a business leader is to use metrics. Just like basketball, Steve explains, you need to find ways to keep the players engaged. And that's by focusing on the leading indicators (measures that are predictive of future performance) and not just the lagging indicators (i.e., measures of past output). This is what the team actually has control over and can influence. If you focus on the scoreboard you lose sight of the fact that it is the little things (the activities supporting leading indicators) that ultimately decide the outcome. For example, in basketball it would be the things you can control like free throw shooting percentage, turnovers, rebounds, etc.
"Ultimately, if you can manage those lead indicators well, the end result will take care of itself and you will notice improvements."
By bringing this approach to Seaspan Ferries, his team is able to focus on what they can influence. The message Steve promotes is that if we focus on the lead indicators, the bottom line will take care of itself.
Steve's Leadership Philosophy
I asked Steve to share his leadership philosophy:
See yourself as a coach – My job is to create the best environment for my direct reports to be successful
If my people are successful, the company is successful
We won't win each time; we have to fail sometimes and learn from these failures
If a decision has to be made – keep asking yourself: "Who else do I need to involve in this". It is so important to solicit input from others
The more you take on the role of a coach, the more ownership they will take
Be a listener – seek them out rather than waiting for them to come to you.
Learn every day from those who work for you –"I believe it's incumbent upon me as a leader to do this and I hope that they get some things from me too"
Be okay not knowing everything
Surround yourself with people who have passion for this business and who reflect the same
Take the complex and make it simple
Find ways to encourage different learning styles
Create a space that is fun to work in and demonstrate a sense of humour
Indicators of Success
When asked what has resulted from his leadership approach at Seaspan Ferries, Steve is quite humble but I gleaned the following:
People come from the broader Seaspan organization to spend time at Seaspan Ferries and regularly remark about the atmosphere (culture) we have here.
People have fun.
Seaspan Ferries people are incredibly passionate about their jobs and there's a high degree of ownership.
We've built accountability into a culture that we are all proud of.
YOUR Leadership Approach – Reflection and Action
Steve's journey of leadership is one we can all learn from. Sometimes it takes a situation like getting fired or leaving the job you are in to be able to reflect and adjust. This honest self-reflection indicates a self-aware leader, willing to own our part and consider what will make for better leadership in the long run.
Most of us have a default way of leading – in other words, what we fall back on when we are under pressure or when we fall into autopilot. As Robert Kaplan & Robert Kaiser discuss in "Developing Versatile Leadership", we can become lopsided in our leadership approach and may need to expand our way of leading – more intentionally. They encourage us to consider adapting to the situation we are in and lead with intention and a desire to consider the impact on those we lead.
The following is an excerpt from Kaplan & Kaiser's article. It portrays the range in leadership approaches – from forceful to enabling and strategic to operational.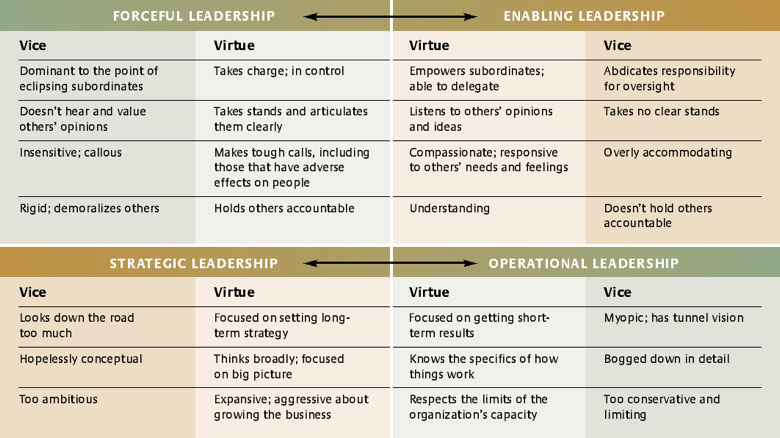 As you look at this ask yourself:
What is my dominant style when I lead?
What are the benefits (virtues) of my approach?
What do I need to pay attention to that could get me in trouble (vices)?
What do I want to do more of as a leader?
What do I want to do less of as a leader?
What situations are occurring regularly that are calling for a certain leadership approach? And which approach is this?
Which of Steve Roth's principles do I want to apply as I lead?
Wherever we are in our leadership journeys, we can take advantage of the lessons Steve has shared and consider which principles we adhere to and want to embed in our leadership practice. This journey never stops, so we may as well enjoy the ride and bring people along with us. The journey is a lot more fun and rewarding when we teach and inspire people along the way.
For more information on Versatile Leadership check out:
For information about Lead vs Lag Indicators:
http://www.intrafocus.com/lead-and-lag-indicators/